How to charge your GreenGo?
Everything you need to know about charging an electric GreenGo (but had no time to ask yet).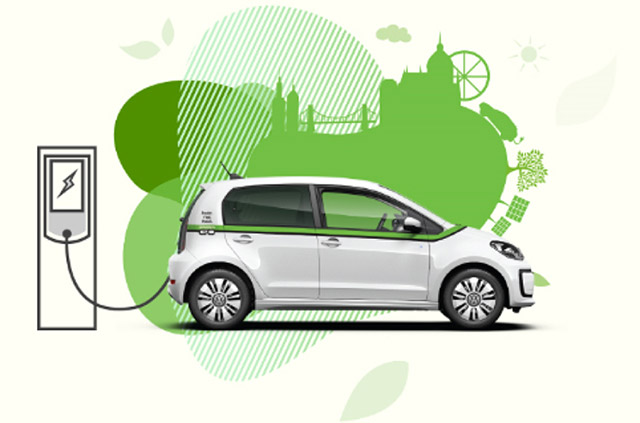 Overview
The basics
You can charge your GreenGo at any public charging station.
GreenGo chargers are free and easy to use with the GreenGo app. Regarding other charging stations around the country—since we don't run them—you will need to register with the given provider and download their app to use the charger. If they are payment-based you will need to pay to charge.
The GreenGo cars don't contain cables. Use a CCS charger or charge them with one of the GreenGo chargers.
If you have your own cable (and it is the right kind!), you can also use that to charge your GreenGo. Scroll down for details!

What kind of chargers and charge types are out there?
FAST - YOU DON'T NEED YOUR OWN CABLE!
DC (direct current) charging, also known as rapid or lightning charging, can charge an empty VW e-Up to 80% as fast as 20 minutes depending on the charger capacity and the ambient temperature. Equipped with a twice as big battery, a Škoda Citigo e iV may reach 80% battery appr. in an hour.

In order to protect the battery, the rapid charging gets slower over 80%, so if you'd like to charge the GreenGo over 90-95%, consider spending more time on the process.

A GreenGo on a DC charger may use a maximum of 40 kW charging power. That means that you may only reach this capacity even if you have a charger with a greater declared value.

All such charging posts contain cables. Look for the CCS connector!
SLOW: USE YOUR OWN CABLE!
AC (alternating current) chargers are slower than DC chargers. A fully depleted e-Up or Citigo should take 4-5 hours to charge up.

AC charging posts do not contain cables (unless they are GreenGo posts), but if you have your own (with a Type2 connector), don't hesitate to use it!

How far can I go on one charge?
The capacity of the GreenGo batteries is 18 kWh in case of an e-Up and 36 kWh in a Citigo. This should give you about 110 km with an e-Up and 230 km with a Citigo, even if you aren't paying great attention to saving energy. If you are very conscious about saving energy and keep your consumption as low as 10-11 kWh/100 km, you should be able to get up to 150 km off one charge with an e-Up and up to 300 km with a Citigo.

What determines battery consumption?
Speed, for example. It is also worth avoiding sudden acceleration, as that takes a lot of energy.
GreenGo cars do best in the city. Driving consistently at 50-60 km/h should get you the most out of them. Keep in mind that consumption efficiency is drastically reduced above speeds of 95-100 km/h.
Using heating or air conditioning, or driving up and down hills, will also drain the battery faster.
Use the car in recharging mode (B) in order to allow energy from braking to help recharge the GreenGo battery.
If you are in ECO or ECO+ mode, the car will automatically limit its performance, not allowing racing acceleration and excessively high speeds. ECO and ECO+ modes can be turned on and off with the button in front of the gear shift.
Okay, and what about the Cargos?
The Kangoo eqipped with a huge luggage compartment has an accumulator with a capacity of 33kWh. How far can you get with a fully charged Kangoo? Besides your driving style that greatly depends on how much the car is loaded. The more stuff you transport the bigger the consumption will get. If the car is not overloaded, and you're not considering the consumption, you may go approximately 170 km with one charge. However, if you're really conscious, you may make this even 240 km!
Tha Kangoos may only be charged with AC chargers. With a very lowly charged Cargo it takes roughly 5 hours to charge. Keep in mind that if you're using a different charger than a public GreenGo AC charger, you need to take care of a charger with a Type2 connector.

How long do I need to charge the car?
This depends on the initial charge level, but if we consider a very lowly charged GreenGo, the following charge times apply:

In case of a VW e-Up (those dominate our fleet):
with a DC 50 kW charger: about 20 minutes*; with a DC 22 kW charger: about 45 minutes; with an AC charger: about 4.5 hours.

In case of a Citigo:
with a DC 50 kW charger: about 60 minutes*; with a DC 22 kW charger: about 90-120 minutes, with an AC charger: about 4.5 hours.

*to reach 80% charge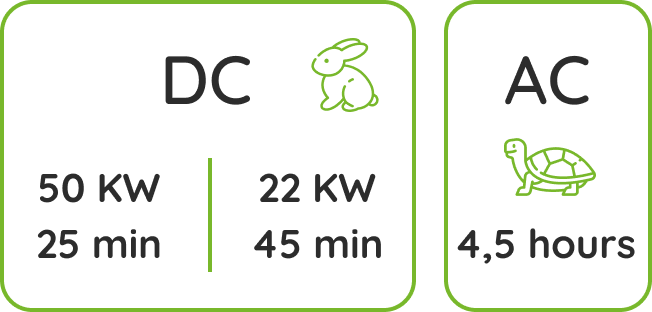 GreenGo tip
The car itself provides the most important information: when charging begins, the time remaining to reach 100% charge will appear on the dashboard.
What do I need to know about GreenGo chargers?
GreenGo's public chargers are AC chargers with built-in cables. Our chargers can be located using the GreenGo app, much like locating cars. Through the app you can initiate a charge or rent a GreenGo that is connected to a charger.
By using the GreenGo app, you can use GreenGo chargers for free!
Where can I find GreenGo chargers?
1-5 Madách Imre Street, Budapest 1075
45-49 Dob Street, Budapest 1074
4 Bevásárló Street (IKEA Soroksár parking), Budapest 1239
2-4 Sport Street (IKEA Budaörs parking), Budaörs 2040
130/a Lőrinci Street (Liszt Ferenc International Airport), Vecsés 2220
Bonus points for charging!
1. If your car is charged at less than 30% at the end of your rental, and you leave it charging at one of the GreenGo charging posts, we'll reward your kindness with 10 bonus minutes.

2. If you park in the parking lot of IKEA Budaörs or Soroksár and you charge the car with the GreenGo charger for at least half an hour, you'll get 10 bonus minutes in return.

If you leave the car charged 80% or above at the end of your day rental, we'll give you 45 bonus minutes. Thank you for making sure the car is ready to be used right away!
What do I need to know about non-GreenGo chargers?
Chargers can be free or payment-based. For information on charger types, user conditions and parameters, please look up the given service provider.
How do I find a charger?
There are great apps that can help you plan, locate chargers, identify their types, etc. Examples include Mobiliti and PlugShare.
Recommendation
To charge your GreenGo, look for CCS charging posts, which will limit the app's search to DC posts: these posts charge quickly and include cables!
What do I need to know about fees?
Usually fees are charged on a per-minute basis or based on the amount of the electric charge. One charge costs about 1,500-2,000 Ft, but some providers may deviate from this.
How do I charge the car?
Just follow the instructions on the charging post. It is important to remember that the charge begins and properly unfolds when the LED beside the GreenGo's charging connector pulses green. If you have a problem when charging, please try again. If it still doesn't work, call the charger's provider, who will be able to respond quickly.
GreenGo Packages for Charging
You can earn a GreenGo Package for charges over 5 kWh, when you use other charging stations than ours. Here's how it works:
for the first 5 kWh, you get a GreenGo Package worth 2000 Ft
for every additional kWh, you earn an extra 200 Ft for your GreenGo Package
we take into account a maximum of 100 kWh per rental, which means a package worth 21000 Ft
If you are charging with a business account, we add the GreenGo Package earned to the personal profile of the renter. We calculate the exact amount charged based on the percentage change in the battery level, which may differ from the amount shown on the charging post for specific reasons (e.g heat loss), and round it according to the rules of mathematics.
For more infromation, please check our Terms of Promotions ("GreenGo autótöltési kedvezmény").
Before you start your journey, always check the charge and whether there are appropriate chargers on your route. Make sure they'll be open! Also check to see what you'll need for charging (app, registration).
Make sure your phone is charged when you leave - or if you have your phone charger with you, you can charge your mobile in the car using the USB port at the top of the dashboard.
Don't forget that you are not allowed to idle/wait at the charging locations. Once you've finished charging, make your spot available to the other electric car drivers waiting to charge. You don't want to be fined!