If you want to rent a GreenGo for a longer stretch — perhaps for exploring the countryside — you can do so at a fixed fee.
Green package
13 490 Ft/24 hour*
14 990 Ft/24 hour**
18 990 Ft/24 hour***
Green Plus
10 990 Ft/24 hour*
12 490 Ft/24 hour**
16 490 Ft/24 hour***
Green Premium
10 490 Ft/24 hour*
11 990 Ft/24 hour**
15 990 Ft/24 hour***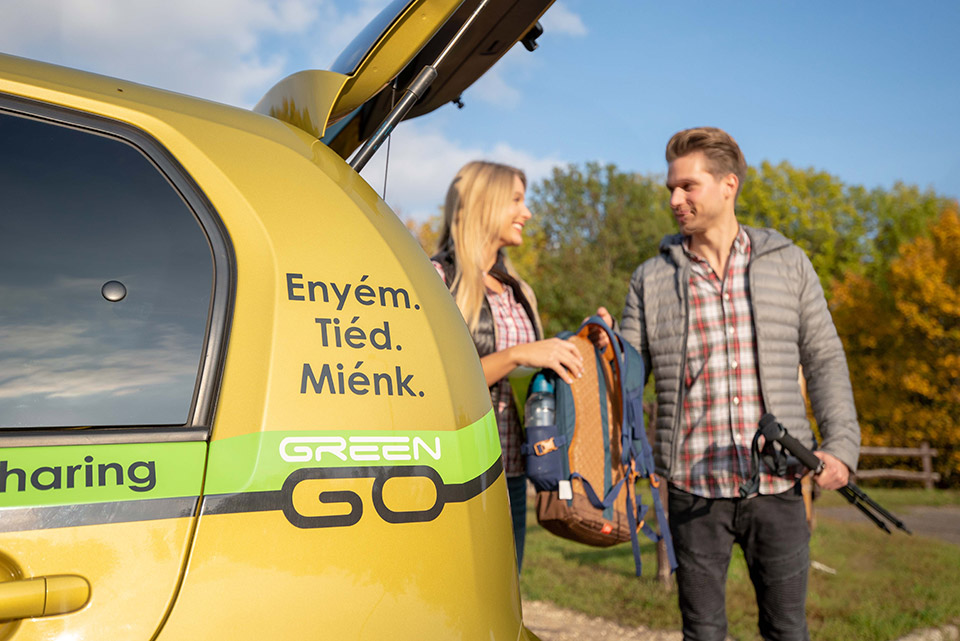 The daily fee applies to the rental of one car, for a 24 hour period starting from the begining of your trip, if you do not close the rental or switch cars in the meantime. To use GreenGo at a cheaper rate, you don't need to do a thing! The fee calculator will stop at the right amount depending on your package, and there are no further fees (e.g., kilometer fee). If your rental reaches 24 hours once or multipile times, you will also be charged a daily fee instead of the per minute fee.
You have the option to take a car out for several days. In such cases we'll charge the daily fee for the number of times you have reached the sum in your package (e.g., if on the second day you only rented the car for half an hour, we won't charge the daily fee for that day). Maximum rental time is 72 hours, which we can modify in certain cases as promotions.
Rent a home or an on-street charging cable for your longer trips until the end of December on the website of EautóTöltőkábel.hu - and the service is free for 3 days. For further details check this page and you can also make your reservation right here.
Our cars all have highway fee stickers for Pest county. Don't forget to pay the appropriate highway fee if you go beyond the county! For longer rentals be aware that you'll need to charge the car at some points. As such, we recommend that you plan your trip and map out the charging opportunities.
For help with charging check our Charging Guide. For more details, see the General Terms of Conditions.
* Daily fee (18 kWh) - Model: VW e-up! (18 kWh)
** Daily fee (36 kWh) - Models: VW e-up! (36 kWh), Skoda Citigo e iV (36 kWh)
*** Daily fee (GreenGo Cargo) - Model: Renault Kangoo