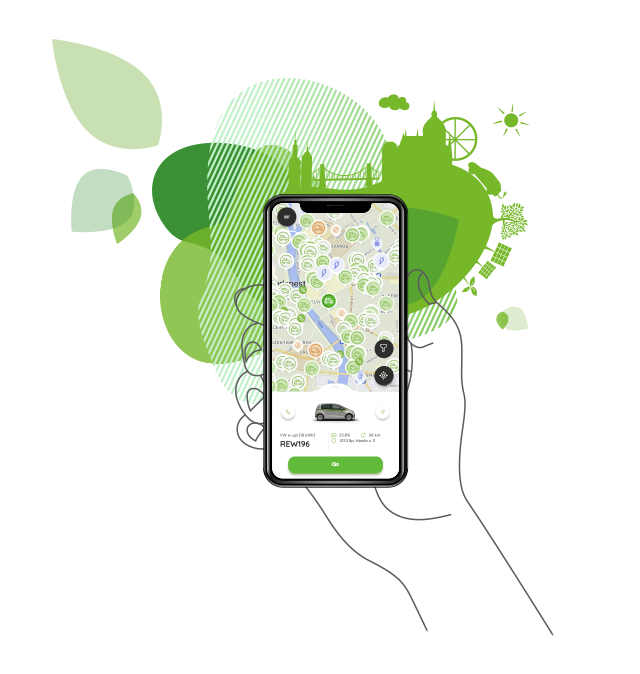 Hello GreenGo app
After a successful registration, the GreenGo mobile app will become your best friend. Use it to track or locate the car closest to you, check its charge level and range, or reserve it to make sure no one else takes it before you get there.
You will need the app to open the car and register its interior and exterior condition. You can also check the boundaries of the service area and find discount parking spots outside it. Managing your parking mode and finishing up your rental also happens through the app.
In order to keep your data and rental safe, the app will ask for a PIN code or a biometric ID.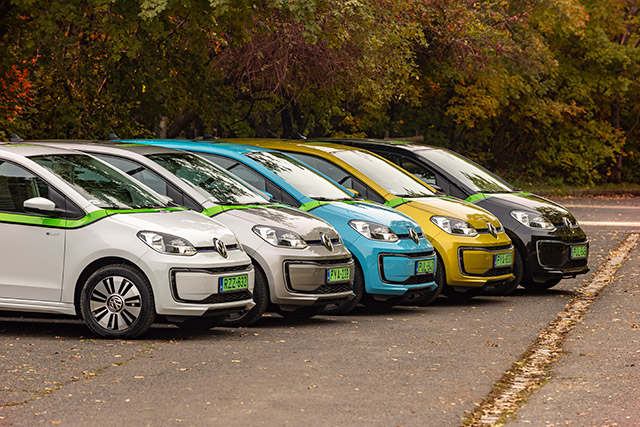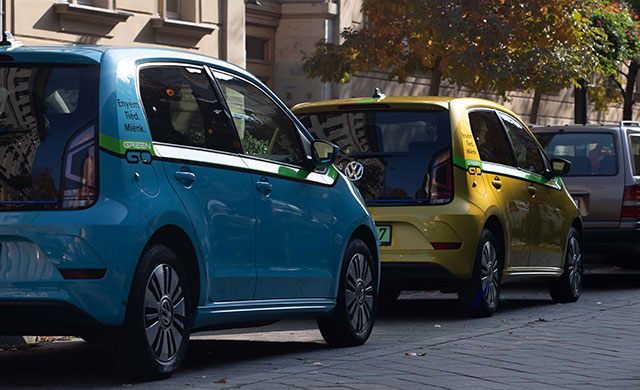 The cars
Our fleet consists of 500 Volkswagen e-UP and Skoda Citigo e iV models. From November 2021 we provide also GreenGo Cargos (Renault Kangoo Z.E.) suitable for transportation of big packages. Every GreenGo is electric and equipped with an automatic transmission. They are all air-conditioned, have seat heating, reverse parking sensors and radios. Should the weather turn on you, each car has an umbrella and an ice scraper. You are free to drive on the highways in the Budapest area, as all our cars have highway stickers for Pest County.
Since each GreenGo is yours too, we want you to feel comfortable and familiar every time you sit in one!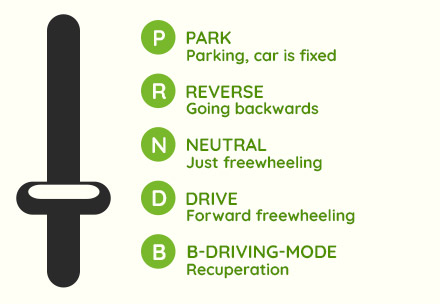 Transmission
Driving an automatic car is easy. You'll quickly get used to it and enjoy it. After starting the engine press the brake pedal and move the gear shift from P (park) to D (drive) or R (reverse). Whenever the car is stopped you should keep the brake pedal depressed, as the car can start moving when you let go of the brake. If you need more tips on starting the car, we provide a detailed explanation on this page.
Once you put the car in D (drive) you don't need to shift any more. In fact, if you choose B mode (recharge) then you don't have to use the brake as much, because the recharging system will slow the car down and stop it.
Don't forget that accelerating and braking use a lot of energy, so if you want to protect the environment you should accelerate gently and use recharge to slow down!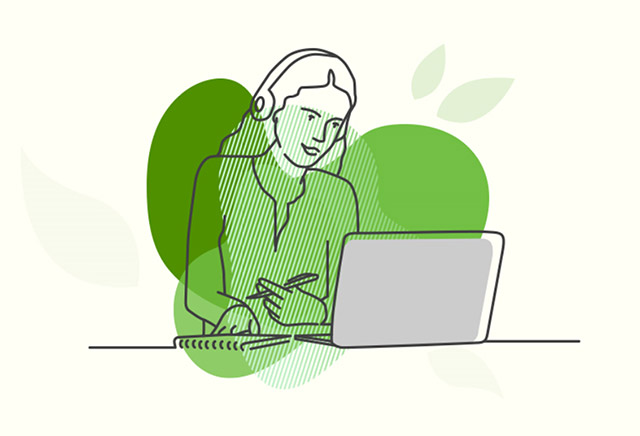 You can always count on us
We are always close by while you are renting. Should you have any problems, our technical assistance line is open day and night at +36 1 999 6469.
Concerning our service, you can send any questions to our customer service email: ugyfelszolgalat@greengo.com, or simply contact us on our Facebook page. The GreenGo community also has your back: should you forget something in the car, you can rest assured you will get it back.
If you need any more tips on GreenGo use, or you'd like to know what the radar function is for, or why taking photographs is important, keep reading in the FAQ section.
If you want to know what extra services we offer, how you can buy a GreenGo Package how to get to the airport or park outside the city at a reduced rate, visit our More GreenGo section.
All we ask is that you handle the GreenGo cars with care. Don't smoke in them, don't transport pets in them—in short: take care of our community.
As you know, GreenGo is: Mine. Yours. Ours.